Basic Info
Edit
Washington Square
Location
North Beach
600 Columbus Ave San Francisco, CA 94133
Size
2.26 acres
Amenities
Public restroom, Handicap accessible
Landmarks
Sts. Peter & Paul Catholic Church
Washington Square Park is located in the heart of North Beach, San Francisco's Little Italy, and can be found between Union St and Filbet St, as well as Columbus Av and Stockton St, the space provides a small green oasis for locals and tourists visiting the area. The northern most side is bordered by Sts. Peter and Paul Catholic Church.
One of San Francisco's three original parks, established around 1847, the square's current layout was designed by architect Lawrence Halprin in the late 1950s.
Significant events
Edit
Activities
Edit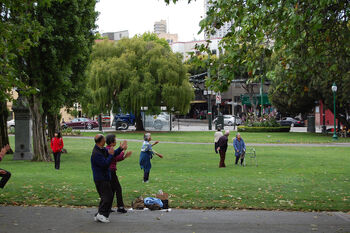 Ad blocker interference detected!
Wikia is a free-to-use site that makes money from advertising. We have a modified experience for viewers using ad blockers

Wikia is not accessible if you've made further modifications. Remove the custom ad blocker rule(s) and the page will load as expected.