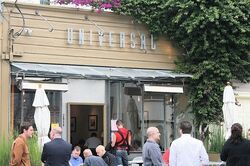 Universal Cafe is a New American restaurant that specializes in organic and sustainably source food. Located between Mission and Potrero Hill, Universal Cafe serves brunch with freshly squeezed juice, soft scrambled eggs, and french toast.
Ad blocker interference detected!
Wikia is a free-to-use site that makes money from advertising. We have a modified experience for viewers using ad blockers

Wikia is not accessible if you've made further modifications. Remove the custom ad blocker rule(s) and the page will load as expected.