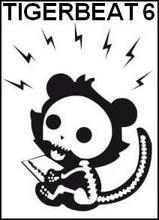 Tigerbeat6 Records is a record label that is located in San Francisco. It is located at 3358 24th St.
Aelters
Aniaetleprogrammeur
Blackdice
Blechturn From Blechdom
Boy From Brazil
Cardopusher
Cex
C.L.A.W.S.
Clipd Beaks
Com.A
Crack: W.A.R.
Crunc Tesla
Dalek
DAT Politics
dDamage
DJ/rupture
Drop The Lime
Dwayne Sodahberk
Eats Tapes
End
Electric Company
Erase Errata
GD Luxxe
Genders
Gold Chains
Indian Jewelry
Kevin Blechdorn
Kid606
Knifehandchop
Kouhei
Lesser
Luke's Anger
Main
Max Tundra
Merzbow
Mochipet
Nathan Michel
Nudge
Numbers
Original Hamster
Phon.o
Pimmon
Puzzleweasel
Quintron and Miss Pussycat
Randy Twigg
Sickboy
Stars as Eyes
Syrup Girls
Terrible Eagle
The Bug
The Electric Set
The Rip Off Artist
The Soft Pink Truth
Total Shutdown
Uprock Rhizome & the Aphasia Group
White Williams
Wobbly
Zeigenbock Kopf
External links
Edit
Ad blocker interference detected!
Wikia is a free-to-use site that makes money from advertising. We have a modified experience for viewers using ad blockers

Wikia is not accessible if you've made further modifications. Remove the custom ad blocker rule(s) and the page will load as expected.