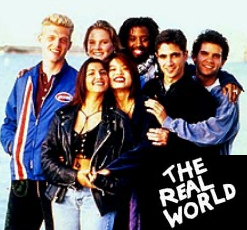 Pedro Pablo Zamora:
February 29, 1972 – November 11, 1994
Cuban-American AIDS educator
One of the first openly gay men with AIDS to be portrayed in popular media
Moved to US in 1980 (age 8) with the Mariel Boat Lift

David "Puck" Rainey: July 18, 1968 - Present
Worked as a bike messenger on the show
As the resident "bad boy", he was the second cast member evicted from a RW house

Has terrible hygiene
​
Rachel Campos: October 22, 1971 - Present
Passionate Republican

Loved saying Pedro's name with a hilarious authentic accent

Married to another Real World alum (RW: Boston)
​
Cory Murphy: August 28, 1973 – Present
Resident Whiner

Now a mother of two

Cried all the time

Judd Winick: February 12, 1970 - Present
Comic Book / Comic Strip / TV writer & artist

Continued Pedro's AIDS education through speaking appearances after Pedro's death

Married fellow housemate Pam years after they moved out of the RW: SF house

Pam Ling: DOB unknown – Present
Married Judd Winick on

August 26, 2001

in a civil ceremony

Mohammed Bilal: March 28, 1970 - Present
Considers himself a mellow, spiritual guy
Lead singer and songwriter for Midnight Voices

Jo Rhodes: August 7, 1971 - Present
Lived in Tahoe before moving to SF for the show
Loves the outdoors and extreme sports like rock climbing
Ad blocker interference detected!
Wikia is a free-to-use site that makes money from advertising. We have a modified experience for viewers using ad blockers

Wikia is not accessible if you've made further modifications. Remove the custom ad blocker rule(s) and the page will load as expected.