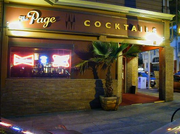 The Page is a great spot to catch a drink in the Lower Haight. Dark and dingy, this spot is the epitomy of a San Francisco dive bar. King Henry VIII rules the lair, as his portrait piers over you while you shoot pool. If you looking for a spot to watch a game with your boy's, The Page is not the place for you. Thirteen inch TV monitors line the bar and most of the time are not turned on.
Ad blocker interference detected!
Wikia is a free-to-use site that makes money from advertising. We have a modified experience for viewers using ad blockers

Wikia is not accessible if you've made further modifications. Remove the custom ad blocker rule(s) and the page will load as expected.