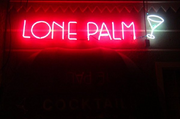 The Lone Palm is located on 22nd and Guerrero in the Mission District of San Francisco. A typical Mission dive bar, this bars' clientele consists primarily of Mission locals. The relaxed and chill vibe makes it a great place to meet with close friends for a cocktail prior to going out. The atmosphere is sentimental and is also a great place to bring a date. Drinks are cheap, although tables are hard to come by. If your going with a big party make sure someone gets there early to reserve a spot.
Ad blocker interference detected!
Wikia is a free-to-use site that makes money from advertising. We have a modified experience for viewers using ad blockers

Wikia is not accessible if you've made further modifications. Remove the custom ad blocker rule(s) and the page will load as expected.