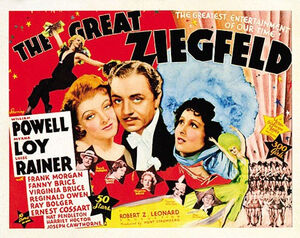 The Great Ziegfeld is a 1936 musical film produced by Metro-Goldwyn-Mayer, starring William Powell and Myrna Loy. The film chronicles the life of Flo Ziegfeld, a Broadway impresario who created a series of theatrical revues, The Ziegfeld Follies.
Most of the film takes place in New York City. A pivotal sequence early in the film is set in San Francisco, where muscleman Eugene Sandow ends his relationship with Ziegfeld after a disastrous fight with a drugged lion.
Ad blocker interference detected!
Wikia is a free-to-use site that makes money from advertising. We have a modified experience for viewers using ad blockers

Wikia is not accessible if you've made further modifications. Remove the custom ad blocker rule(s) and the page will load as expected.