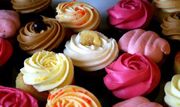 That Takes the Cake serves a variety of unique flavors along with its incredibly interesting names. In addition, you will have the choice to select from Regular to cream filled cupcakes. If you are trolling around Union Square district and craving something sweet, That Takes the Cake is probably your best choice.
Single Regular Cupcake $2.95, Filled Cupcake $3.25, Mini $1.50
Address: 2271 Union Street, San Francisco, CA 94123
Signature Flavors:
Sleepless in SF
Blonde Bombshell
Gentlemen prefer red (Red Velvet-like)
Hella Nutella (Filled cupcake)
Rocky Road
Snicker doodle
Orange Zinger
Lemon drops
Samoa
Ad blocker interference detected!
Wikia is a free-to-use site that makes money from advertising. We have a modified experience for viewers using ad blockers

Wikia is not accessible if you've made further modifications. Remove the custom ad blocker rule(s) and the page will load as expected.