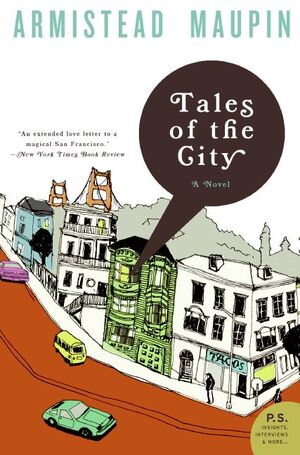 Tales of the City is a series of nine novels written by author Armistead Maupin. The stories from Tales were originally serialized prior to their novelization, with the first four titles appearing as regular installments in the San Francisco Chronicle, while the fifth appeared in the San Francisco Examiner. The last four titles were never serialized, but were instead originally written as novels.
Tales of the City (1978)
More Tales of the City (1980)
Further Tales of the City (1982)
Babycakes (1984)
Significant Others (1987)
Sure of You (1989)
Michael Tolliver Lives (2007)
Mary Ann in Autumn (2010)
The Days of Anna Madrigal (2014)
Ad blocker interference detected!
Wikia is a free-to-use site that makes money from advertising. We have a modified experience for viewers using ad blockers

Wikia is not accessible if you've made further modifications. Remove the custom ad blocker rule(s) and the page will load as expected.