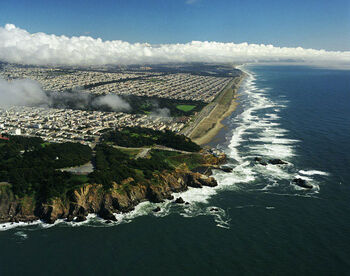 The Sunset District is a large, mostly residential district in San Francisco, spanning from Lincoln Way to Sloat Boulevard, and Sunset Boulevard to 19th Street
1
. Just to the East, the Inner Sunset is so named because it is closer to downtown. The Outer Sunset, to the West, borders Ocean Beach.
Topography
Edit
The majority of the Sunset district is flat compared to other parts of San Francisco, with only a few rolling hills. The land generally sweeps downhill towards the ocean and uphill towards Twin Peaks.
The Sunset is known for it's foggy weather due to its proximity to the ocean. Cool ocean air gets condensed to the point of moisture, and warm central valley weather creates a vacuum that pulls the condensed air inland 2.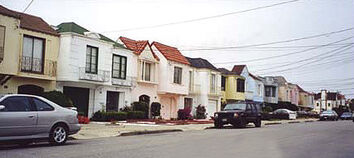 Resources
Edit
Ad blocker interference detected!
Wikia is a free-to-use site that makes money from advertising. We have a modified experience for viewers using ad blockers

Wikia is not accessible if you've made further modifications. Remove the custom ad blocker rule(s) and the page will load as expected.