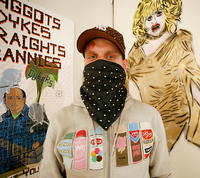 Jeremy Novy is an artist based in San Francisco, California. He is most notable as a street artist, specifically for his stencils Koi fish that are peppered on sidewalks throughout the entire city.
Novy keeps a studio in the Bayview district that is covered in stencil work. Although his fish are well-known by citizens of San Francisco who don't even know his name, the stencil work in his studio predominantly features men as subjects, as Nova is first and foremost a "Queer street artist".
Quotes
"Queer street art has always been an oppressed art form. We are not taggers. We're street artists. This is for social change. It's about doing something better." - Jeremy Novy
Gallery
External Links
See Also
Ad blocker interference detected!
Wikia is a free-to-use site that makes money from advertising. We have a modified experience for viewers using ad blockers

Wikia is not accessible if you've made further modifications. Remove the custom ad blocker rule(s) and the page will load as expected.