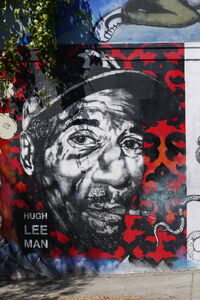 Hugh Leeman is an artist based in San Francisco, California. Originally from Logansport, Indiana, Leeman began backpacking around the U.S. after school, and while he only intended to stay in San Francisco for 6 months, he has now been here for over six years, living and painting in the same studio since he arrived.
Leeman is a self-taught artist, and his works have appeared on public walls and inside galleries all over the world. He is most notable for his portraits of the inner-city, usually homeless, residents of the Tenderloin neighborhood. Leeman turns these marginalized citizens into iconic heroes by plastering their portraits all over the city. He also runs a t-shirt program in which his underprivileged subjects sell t-shirts with his art and keep 100% of the profits.
"By the time you see this, this piece will have disappeared. My street art is meant to act as an advertisement, one that recasts the disenfranchised citizens of inner cities into potentially heroic roles. These ads are meant to implore passerby to engage with not just my artwork, but also its subjects on a deeper level. The ad agency is looking to force the forgotten into the conversation" - Hugh Leeman
To view an extensive portfolio of Hugh Leeman's work, both street art and gallery pieces, visit his website.
External Links
Edit
Ad blocker interference detected!
Wikia is a free-to-use site that makes money from advertising. We have a modified experience for viewers using ad blockers

Wikia is not accessible if you've made further modifications. Remove the custom ad blocker rule(s) and the page will load as expected.