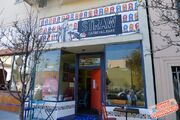 Straw is a Carnival Fare themed restaurant located in Hayes Valley. Right on Octavia across for the Hayes Valley playground.
This place is a local treasure. They have done a great job of bringing the carnival food we all love and doing it with a bit of class.
The brave people will try the hamburger that comes on a glazed doughnut. If you are going to die of a heart attack this is the way I want to go.
Come check out Straw.
Here is the website: http://strawsf.com/
Ad blocker interference detected!
Wikia is a free-to-use site that makes money from advertising. We have a modified experience for viewers using ad blockers

Wikia is not accessible if you've made further modifications. Remove the custom ad blocker rule(s) and the page will load as expected.