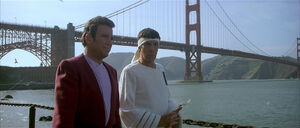 Star Trek IV: The Voyage Home is a 1986 American science fiction film released by Paramount Pictures. It is the fourth feature film based on the Star Trek science fiction television series. Intent on returning home to Earth to face trial for their crimes, the former crew of the USS Enterprise finds the planet in grave danger from an alien probe attempting to contact now-extinct humpback whales. The crew travel to Earth's past to find whales who can answer the probe's call.
Much of the film takes place in San Francisco, the future site of Starfleet Headquarters and the United Federation of Planets. When the Enterprise crew travel to the past, they park their ship in Golden Gate Park, and when they return to their own time, the ship crashes in San Francisco Bay.
External links
Edit
Ad blocker interference detected!
Wikia is a free-to-use site that makes money from advertising. We have a modified experience for viewers using ad blockers

Wikia is not accessible if you've made further modifications. Remove the custom ad blocker rule(s) and the page will load as expected.