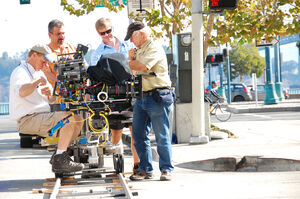 Often referred to as one of the most beautiful cities in the world, San Francisco has been the backdrop for many television shows. Well known shows including Trauma, Midnight Caller, The Streets of San Francisco, and Nash Bridges have been filmed entirely in the Bay Area.
We want to catalog all TV shows that take place in or have a scene in San Francisco.
TV Shows That Take Place in San Francisco
Edit
Television programs that highlight the city and its people include:
The Adventures of Brisco County, Jr.
All Dogs Go to Heaven: The Series
The Life and Times of Juniper Lee
The Lineup (also known as San Francisco Beat)
Love Is a Many Splendored Thing
Lucy, The Daughter of the Devil
The Streets of San Francisco
Animal Cops: San Francisco
What Makes it Tick on Fine Living
Miniseries, specials or individual episodes:
Edit
Stewie Griffin: The Untold Story
I'm Spelling as Fast as I Can
"Psych "Who Ya Gonna Call?"
"Criminal Minds "The Fight"
TV Shows That Have a Scene In San Francisco
Edit
Ad blocker interference detected!
Wikia is a free-to-use site that makes money from advertising. We have a modified experience for viewers using ad blockers

Wikia is not accessible if you've made further modifications. Remove the custom ad blocker rule(s) and the page will load as expected.