The SFMTA (San Francisco Municipal Transportation Agency) operates the San Francisco Municipal Railway (SF Muni or Muni) which is the public transit system for the city and county of San Francisco. The Agency also manages parking permits, meters and fines for San Francisco.
The San Francisco Municipal Railway includes bus, streetcar and cable care lines. In terms of ridership, Muni is the seventh largest transit system in the United States], with over 700,000 daily boardings in 2010 and is the second largest system in California, behind Los Angeles.
Muni operates 365 days a year. Many weekday riders are commuters, as the daytime weekday population in San Francisco exceeds its normal residential population. The current fare for a single ride is $2.00.
Bus lines
Edit
Muni operates 71 bus lines that run at various times throughout the day and week. Some busses on high-volume routes are double-length vehicles.
Streetcar lines
Edit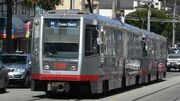 Muni operates 6 light-rail streetcar lines. These are identified by a single-letter designation such as J, K or L, along with short designation stating the area of the city served. 5 lines pass through some portion the main subway tunnel that carries the lines throught the downtown area. The historic F line operates on surface tracks only.
Cable car lines
Edit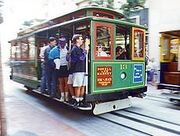 Muni operates 3 cable car lines. While the cable cars are used to a certain extent by commuters, their small service area and premium fares for single rides ($6) make them more of a tourist attraction. They are one of the most significant tourist attractions in the city and are the only remaining manually operated cable care system in the world.
Express/Limited lines
Edit
Express lines only run during peak hours. In the morning, express lines run towards downtown and during the evening they run away from downtown. All express lines have an "X", "AX", or "BX" following the line's number. Some lines are divided into A and B Expresses. The B Express line is shorter and has stops that are closer to downtown, while the A Express makes stops further away from downtown and will make few or no stops in the area where the B Express stops. Limited lines also provide fast service along their routes. They make fewer stops than the standard line to achieve faster travel, but the stops are interspersed at greater intervals along the entire line. Express buses make frequent local stops near the origin and destination, but not in the middle. Limited buses take the same route as the regular line, while Express buses take a bypass route. All limited-stop lines have an "L" following the line's number.
Late-night service
Edit
Some routes run 24 hours a day, while other routs change to special "owl" service between 1am and 5am.
Connections to other systems
Edit
Muni shares five stations with BART, one station with Caltrain, and many bus stops also serve samTrans, Golden Gate Transit and/or AC Transit busses.
Public perception
Edit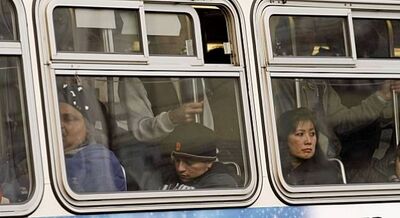 While Muni will generally get you to where you are going, the chances that you will arrive on time, as clean as when you began your journey, and in possession of all of your valuables can vary depending on the route and time of day. Busses or trains may be too full to stop for you during peak hours, and your wait during off-peak hours may be longer than an average sitcom episode. News stories about frequent accidents, underfunded budgets, dangerously delayed vehicle maintenance and surly operators have created a general apathy about the state of the system among San Francisco residents.
List of Muni routes
Edit
Below is a list of all current Muni routes, with anecdotal descriptions and comments.
Streetcar lines
Edit
F-Market & Wharves
Mainly used by tourists and Market Street denzeins who don't wish to descend below street level.
J-Church
Great for getting to Dolores Park and the Outer Mission; its final destination is mysterious and shrouded in fog.
KT-Ingleside/Third Street
The T line is a vital connection to an underserved area of the city. The K line's Ingleside destination is considered very remote by many residents who never leave the central part of the city.
L-Taraval
It goes to the zoo.
M-Ocean View
Filled with students going to/from SF State and Stonestown-bound mall shoppers.
N-Judah,NX-N Express
Great for scoping out leg tattoos and getting to the beach.
Board the front of the two cars if you want to avoid the B&O line that is car number two.
Bus lines
Edit
1-California,1AX-California A Express,1BX-California B Express
Great for singles, many have met their future partner on this line.
2-Clement
3-Jackson
5-Fulton
6-Haight-Parnassus
7-Haight-Noriega
7X-Noriega Express
8-Bayshore ,8AX-Bayshore A Exp,8BX-Bayshore B Exp
9-San Bruno, 9R-San Bruno Rapid
An excellent choice if you enjoy riding with individuals recently released from police custody. Dry humping abounds on crowded busses. Watch for flying blood and other bodily fluids, hazmat suits may be appropriate.
10-Townsend
One of the newest lines.
12-Folsom/Pacific
Keep an eye out for the Latino Henry Winkler and men with brightly colored glasses.
14-Mission,14R-Mission Rapid,14X-Mission Express
Possibly the longest route by time, since it stops every two blocks for the entire length of Mission Street. Runs 24 hours, late nights and early mornings are high vomit-hazard times.
18-46th Avenue
19-Polk
Frequent unexpected serenades by homeless riders.
21-Hayes
22-Fillmore
Excellent for witnessing confrontations between Jehovah's Witnesses and homeless people.
23-Monterey
Possibly the friendliest route, everyone knows one another.
24-Divisadero
May be the most useful and entertaining route since it cuts through so many neighborhoods.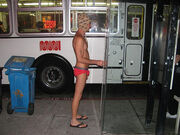 25-Treasure Island
27-Bryant
28-19th Avenue,28R-19th Avenue Rapid
Be prepared to wait in stop-and-go Highway 1 traffic. A vital connection if you need to get from Daly City BART station to the Golden Gate Bridge, as so many often need to do.
29-Sunset
Longest route by distance traveled, Filled with students during communte times since it serves both SF State and City College.
30-Stockton
Also called the "Dirty Thirty". Chickens or other animals may be murdered before your eyes, and the older Chinese people may be adusive to younger riders. The older Chinese people may be carrying pink plastic grocery bags that drip unknown fluids on the bus floor.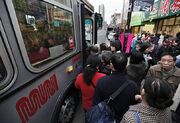 30X-Marina Express
Not much conversation as it passes through the Marina, everyone stares at their iPads. Olfactory assualt due to the large number of perfume abusers.
31-Balboa, 31AX-Balboa A Express, 31BX-Balboa B Express
Can be dangerous.
33-Ashbury-18th
Watch out for meth users in the seat behind you.
35-Eureka
36-Teresita
37-Corbett
38-Geary,38AX-Geary A Express,38BX-Geary B Express,38R-Geary Rapid
High-crime and lots of crazy, but the drivers may wait for you when you're running through the rain to catch your bus. Often filled with large tourist familes and their luggage, outbound from Market Street.
39-Coit
41-Union
43-Masonic
44-O'Shaughnessy
45-Union/Stockton
Goes through Chinatown; ideal if you enjoy being spit on (during Chinatown span only).
47-Van Ness
48-Quintara - 24th Street
49-Mission-Van Ness
52-Excelsior
54-Felton
56-Rutland
57-Park Merced
66-Quintara
67-Bernal Heights
Never runs, may be a myth.
76X-Marin Headlands Express
81X-Caltrain Express
82X-Levi Plaza Express
83X-Mid Market Express
88-BART Shuttle
90-San Bruno Owl
91-Owl
K-Owl
L-Owl
Drivers may be sympathetic to women being pursued by strange vehicles, and make special stops right in front of their houses.
M-Owl
N-Owl
T-Owl
Cable car lines
Edit
Powell/Mason Cable Car
Powell/Hyde Cable Car
California Cable Car
Schedules and Planning Resources
Edit
Route Guide - http://www.sfmta.com/cms/asystem/routelist.php
NextBus (real time arrival predictions) - http://www.nextbus.com/predictor/stopSelector.jsp?a=sf-muni
511.org - Schedules and trip planning
Did Gavin Newsom ever ride Muni?
Edit