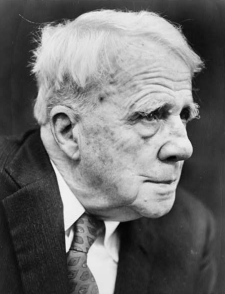 Robert Frost (March 26, 1874 – January 29, 1963) was an American poet. He is highly regarded for his realistic depictions of rural life and his command of American colloquial speech. His work frequently employed settings from rural life in New England in the early twentieth century, using them to examine complex social and philosophical themes. One of the most popular and critically respected American poets of his generation, Frost was honored frequently during his lifetime, receiving four Pulitzer Prizes for Poetry.
Frost was born in San Francisco to journalist William Prescott Frost, Jr., and Isabelle Moodie. Frost's father was a teacher and later an editor of the San Francisco Evening Bulletin (which later merged with the San Francisco Examiner), and an unsuccessful candidate for city tax collector. After his death on May 5, 1885, the family moved across the country to Lawrence, Massachusetts, under the patronage of (Robert's grandfather) William Frost, Sr., who was an overseer at a New England mill.
Ad blocker interference detected!
Wikia is a free-to-use site that makes money from advertising. We have a modified experience for viewers using ad blockers

Wikia is not accessible if you've made further modifications. Remove the custom ad blocker rule(s) and the page will load as expected.