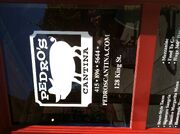 Pedro's cantina is a gem of a bar right across the street from AT&T Ball Park.
On game days you will find this place very crowded however usually this is a great bar for after work drinks or a quick lunch beer.
Check out there website: http://pedroscantina.com/
Pedros offers $13 Valey Parking in conjunction with Momos and Pete's Tavern - both next door. Not available on game days.
Ad blocker interference detected!
Wikia is a free-to-use site that makes money from advertising. We have a modified experience for viewers using ad blockers

Wikia is not accessible if you've made further modifications. Remove the custom ad blocker rule(s) and the page will load as expected.