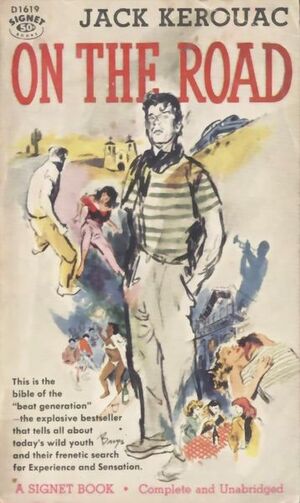 On the Road is a novel by writer Jack Kerouac, written in April 1951, and published by Viking Press in 1957. It is a largely autobiographical work based on the spontaneous cross-country adventures of Kerouac and his friends during the middle of the 20th century. It is often considered a defining work of the postwar Beat Generation that was inspired by jazz, poetry, and drug experiences. While many of the names and details of Kerouac's experiences are changed for the novel, hundreds of references in On the Road have real-world counterparts.
The two main characters of the book are the narrator, Salvatore "Sal" Paradise, and his new friend Dean Moriarty, much admired for his carefree attitude and sense for adventure, a free-spirited maverick eager to explore all kicks and an inspiration and catalyst for Sal's travels. The novel contains five parts, three of them describing road trips.
The first part of the novel describes Sal's first trip to San Francisco, and the characters return regularly to the city over the course of the book.
Ad blocker interference detected!
Wikia is a free-to-use site that makes money from advertising. We have a modified experience for viewers using ad blockers

Wikia is not accessible if you've made further modifications. Remove the custom ad blocker rule(s) and the page will load as expected.