McLaren Park
Location
Excelsior
John F Shelley Dr & Mansell St, San Francisco, CA 94134; http://goo.gl/maps/p5muS
Size
312 acres
Amenities
Bathrooms, picnic areas, off leash dog area, amphitheater
Landmarks
Reservoir, amphitheater
Wow! McLaren Park is enormous. The park is in the southwestern part of San Francisco nestled just between the Exelsior and Visitacion Valley Neighborhoods. Visitors can (literally) get lost strolling through the grounds. On your walk you'll stroll over rolling hills, through wooded grounds, across streams, marshlands and grassy areas.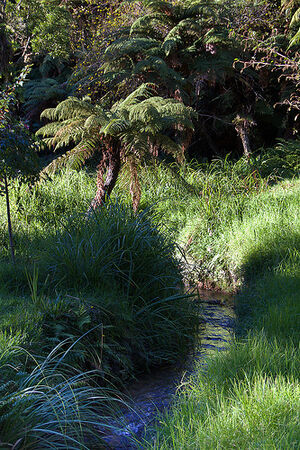 The city of San Francisco dedicated the park to John McLaren in 1934 having received the initial parcel of land from a developer in 1905. McLaren was a horticulturist and supervisor of San Francisco's Golden Gate Park from 1887-1940.
Off Leash Dogs
Edit
The official off leash dog area of McLaren park is around 10 acres and includes the reservoir for your swimming obsessed lab types. Due to the topography of McLaren park, you may be there with a bunch of other dog walkers and still feel alone as you stroll through the wooded paths towards the amphitheater.
Ad blocker interference detected!
Wikia is a free-to-use site that makes money from advertising. We have a modified experience for viewers using ad blockers

Wikia is not accessible if you've made further modifications. Remove the custom ad blocker rule(s) and the page will load as expected.