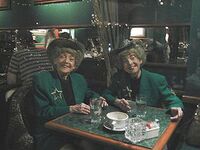 Marian and Vivian Brown (born January 25, 1927) are identical twin sisters who are popular public figures in San Francisco. They were voted second place for the title of "Best Local Character" in 2000. They often eat at Uncle Vito's restaurant in Nob Hill, and are often seen dressing in identical clothing, walking the streets of Nob Hill. Most commonly, they wear matching fur coats.
Ad blocker interference detected!
Wikia is a free-to-use site that makes money from advertising. We have a modified experience for viewers using ad blockers

Wikia is not accessible if you've made further modifications. Remove the custom ad blocker rule(s) and the page will load as expected.