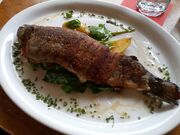 Leopold's is perhaps San Francisco's most well-known German restaurant. And it's easy to see why--how can you not love all the jovial servers in their lederhosen and dirndl? And the enormous house-made salumi platter? And the boot-sized beers? Word of warning to those who attempt Das Boot--the entire restaurant will egg you on as you drink, so make sure you can handle your liquor!
This is a great place for groups and celebrations, but expect a wait as they don't take reservations. Allow time for finding street parking.
Ad blocker interference detected!
Wikia is a free-to-use site that makes money from advertising. We have a modified experience for viewers using ad blockers

Wikia is not accessible if you've made further modifications. Remove the custom ad blocker rule(s) and the page will load as expected.