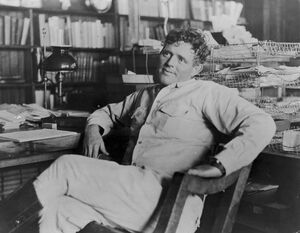 John Griffith "Jack" London (b. John Griffith Chaney, January 12, 1876 – November 22, 1916) was an American author, journalist, and social activist. He was a pioneer in the then-burgeoning world of commercial magazine fiction and was one of the first fiction writers to obtain worldwide celebrity and a large fortune from his fiction alone. He is best remembered as the author of Call of the Wild and White Fang, both set in the Klondike Gold Rush, as well as the short stories "To Build a Fire", "An Odyssey of the North", and "Love of Life". He also wrote of the South Pacific in "The Pearls of Parlay" and "The Heathen", and of the San Francisco Bay area in The Sea Wolf.
London was born near Third and Brannan Streets in San Francisco. The house burned down in the fire after the 1906 San Francisco earthquake; the California Historical Society placed a plaque at the site in 1953.
Ad blocker interference detected!
Wikia is a free-to-use site that makes money from advertising. We have a modified experience for viewers using ad blockers

Wikia is not accessible if you've made further modifications. Remove the custom ad blocker rule(s) and the page will load as expected.