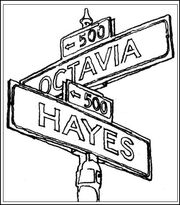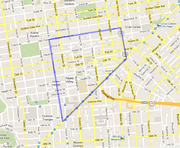 Hayes Valley is an up and coming neigbhorhood in central San Francisco. It is boardered by Lower Haight, Western Addition and Deboce Triangle.
Physical Features
Edit
Tourist Attractions
Edit
Food & Bars
Edit
Restaurants & Cafes
Edit
Absinthe Brasserie and Bar
Arlequin
Blue Bottle Coffee Company
Caffe delle Stelle
Canto do Brasil
Espetus
Flipper's
Hayes Street Grill
Indigo
Jardiniere
Laurels Restaurant
Moishe's Pippic
Momi Toby's Revolution Café/Art Bar
Patxi's
Sauce
Sebo
Stelline
Suppenkuche
Zuni Cafe
Nightlife
Edit
Marlena's
Place Pigalle
Rickshaw Stop
Shopping
Edit
Alla Prima
Arlequin Wine Merchant
Azalea Boutique
Bulo Women's Shoes
Dark Garden
Dish
F. Dorian & Art Options
find
Flight 001
Gaia Tree
Gimme Shoes
Haseena
Inside
Lava9
Lavish
Lotus Bleu
Mac
Nida
Nomads
Paolo
Peace Industry
Propeller
Shoppe Unusual
Smaak
Tazi Designs
The African Outlet
True Sake
Ver Unica
Yoga Tree
Zeni
Zonal
Transportation
Edit
21 Hayes bus
22 Fillmore bus
47 Van Ness bus
49 Mission-Van Ness bus
90 San Bruno Owl bus
J Church light rail
K Ingleside light rail
L Taraval light rail
M Ocean View light rail
N Judah light rail
Ad blocker interference detected!
Wikia is a free-to-use site that makes money from advertising. We have a modified experience for viewers using ad blockers

Wikia is not accessible if you've made further modifications. Remove the custom ad blocker rule(s) and the page will load as expected.