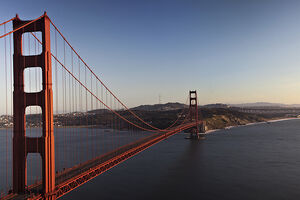 The Golden Gate Bridge is an orange suspension bridge which spans the Golden Gate -- the gateway between the San Francisco Bay and the Pacific Ocean via US Highway 101 and CA 1.
It was constructed from 1933-1937. It is composed of steel and spans 8,981 ft (1.7 miles). Daily, 120,000 cars traverse the bridge. It is also open to pedestrians and cyclists.
See Also
Edit
External links
Edit
Ad blocker interference detected!
Wikia is a free-to-use site that makes money from advertising. We have a modified experience for viewers using ad blockers

Wikia is not accessible if you've made further modifications. Remove the custom ad blocker rule(s) and the page will load as expected.