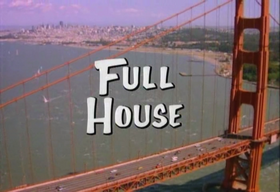 Full House is a fantastic sitcom that ran from 1987-1995 on ABC. It was set in San Francisco and featured a widowed father raising his three daughters and the friends and family who helped him.
The opening credits famously show the Golden Gate Bridge, the Painted Ladies, and the family playing in Alamo Square Park.
The show has a sequel that is exclusively on Netflix, Fuller House which featured the oldest daughter now a widowed mother raising her three sons and the friends and family who helped her.
Ad blocker interference detected!
Wikia is a free-to-use site that makes money from advertising. We have a modified experience for viewers using ad blockers

Wikia is not accessible if you've made further modifications. Remove the custom ad blocker rule(s) and the page will load as expected.