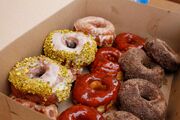 Gourmet doughnuts, fresh coffee, tons of indoor and outdoor seating, dog- and kid-friendly. Best morning ever.
The doughnuts often feature fruit-and-spice flavors. Dynamo's most popular doughnut, however, is the Bacon Maple Apple.
From the Dynamo Donuts website :
Dynamo uses Clover Organic Milk for it's coffee and donuts. Each donut utilizes organic, sustainable, and local ingredients whenever possible. They are always handmade daily by Sara and her dedicated staff. We offer a rotating selection of 7 to 10 donuts per day so quality and freshness of ingredients can be guaranteed. EVERYDAY is Bacon Donut Day!!!
Ad blocker interference detected!
Wikia is a free-to-use site that makes money from advertising. We have a modified experience for viewers using ad blockers

Wikia is not accessible if you've made further modifications. Remove the custom ad blocker rule(s) and the page will load as expected.