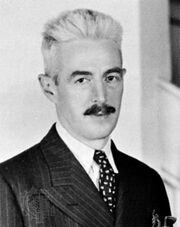 Dashiell Hammett (May 27, 1894 - January 10, 1961) wrote some of the 20th century's great detective novels, including Red Harvest, The Glass Key and The Thin Man. His most famous novel is arguably The Maltese Falcon, later made into a movie starring Humphrey Bogart (1941).
Many of Hammett's stories take place in the San Francisco of the 1920s, including:
Red Harvest (February 1, 1929)
The Dain Curse (July 19, 1929)
The Maltese Falcon (February 14, 1930)
The above links will take you to an in-depth walk-through of the events of the novel highlighting the locations Hammett used.
Ad blocker interference detected!
Wikia is a free-to-use site that makes money from advertising. We have a modified experience for viewers using ad blockers

Wikia is not accessible if you've made further modifications. Remove the custom ad blocker rule(s) and the page will load as expected.