San Francisco's Crissy field is San Francisco's northwestern edge. The park itself is an estuary that was once classified as a "derelict concrete wasteland"[1].
The park was taken over in 1994 by the National Park Service and restoration begun.
Crissy Field Today
Edit
Today, Crissy Field is a full service recreation area. The park has several restroom facilities, education programs, cafes and 130 acres of salt marsh and estuaries for strolling and site seeing.
Crissy (as the locals call it, of course) has great sandy beaches, a view of the Golden Gate Bridge and the Marin Headlands. Early morning visitors may see whales or dolphins in the bay.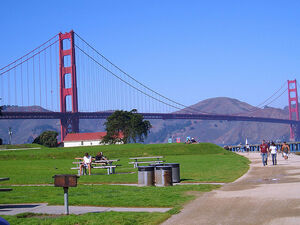 You'll find the working out types doing their thing, tourists on rental bikes peddling along the water front, dog walkers and lots of picknickers. As you're strolling along the beach, turn to the southeast to get a great view of San Francisco's Telegraph Hill.
Some of the programs at Crissy Field: include[2]:
Junior Rangers
Wildlife Wonders
Cultural Legacies
Garbology 101
America's Cup
Edit
In 2013, San Francisco will host the
America's Cup
. The course will cover Pier 27 to the southeast and all the way to Crissy Field to the northwest.
Dogs at Crissy
Edit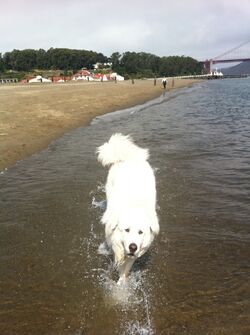 You'll find dogs going nuts in the sand and the bay along the beaches at Crissy Field. Dogs must be leased at all other areas of Crissy Field, but the beaches are the best part anyway.
Ad blocker interference detected!
Wikia is a free-to-use site that makes money from advertising. We have a modified experience for viewers using ad blockers

Wikia is not accessible if you've made further modifications. Remove the custom ad blocker rule(s) and the page will load as expected.