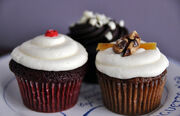 Cako is the most accessible cupcakery in San Francisco. It has been shifting around its delicacies booth in almost every mall imaginable. You can find a Cako booth conveniently located in the Metereon as well as Union square and various shopping center.
Single Cupcake $3.25
Signature Flavors:
Rich & Famous
Cookie & Cream
Back to Basics Vanilla Sprinkles
Maple Bacon
Pink Lemonade
Strawberry Cheesecake
Tiramisu
Snickers
Ad blocker interference detected!
Wikia is a free-to-use site that makes money from advertising. We have a modified experience for viewers using ad blockers

Wikia is not accessible if you've made further modifications. Remove the custom ad blocker rule(s) and the page will load as expected.