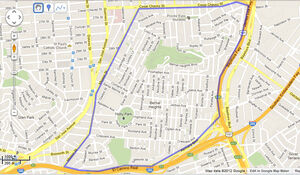 Bernal Heights lies to the south of San Francisco's Mission District. Its most prominent feature is the open parkland and microwave tower on its large rocky hill, Bernal Heights Summit. Bernal is bounded by Cesar Chavez Street to the north, Mission Street to the west, US 101 to the east, and I-280 to the south.
San Francisco's Bernal Heights is a hilltop village tucked away in the southern part of the city. Freeways and urban thoroughfares now bound the neighborhood, once defined by the swamps and creeks of the original Mexican land grant. The legacy of Potrero Viejo, or "old pasture," and the farms of the 19th and 20th centuries have developed into today's passion for the preservation of open space. From the 1860s legend of Widow O'Brien's cow to the 1970s fight that saved the hill's crest from development, Bernal residents have tirelessly guarded their environment. An unofficial coyote mascot reigns over one of San Francisco's few remaining wild areas.
Construction in Bernal Heights didn't take off until after the 1906 earthquake, when most of the city was destroyed. Bernal Heights had few or no gas lines and stood on a much more stable bedrock than in the surrounding areas, and therefore was spared from fire and other damage following the earthquake.
Physical Features
Edit
Climate: The weather in Bernal Heights South ranges from 58° F in January to an average high of 67° F in July and receives 22 inches of precipitation each year.
Tourist Attractions
Edit
Fiesta on the Hill: Bernal Heights' annual street fair offers a petting zoo, pony rides, a pumpkin patch, painting, art activities and two stages of live music and dance. Proceeds benefit the Bernal Heights Neighborhood Center. On Cortland Avenue.
Food/Bars
Edit
Night Life
Edit
Parks and Recreation
Edit
Dog Patch/Miller Memorial Grove Community Garden
Bernal Heights Community Garden
Bernal Heights Hill-Wide Garage Sale: This annual neighborhood tag sale is a great way to pick up some cast-off treasures from an eclectic community that's full of artists and other creative types who collect cool stuff. Every August.
Cortland Ave:
Bus Lines (SF Muni Map)
9 - San Bruno
12 - Folsom
27 - Bryant
Driving: Northbound: Take 101 to the Alemany Boulevard exit. Turn left onto Bayshore Boulevard. Go north one light. Turn left onto Cortland Avenue. Southbound: Take 101 to the Caesar Chavez Street exit, take the Bayshore Boulevard lane (second from left) on the four-lane off-ramp. Go south on Bayshore to Cortland Avenue, then turn right up the hill.
Cesar Chavez Greening: The streetscape work will take place on Cesar Chavez between Hampshire and Guerrero streets and will align the street with the community's developed vision for the corridor. The goals are to improve pedestrian and bicyclist safety, enhance greening, promote ecology function, and make the street work better for all users. To do this, the streetscape project will widen the existing median to allow for many more street trees and landscaping, provide left turn pockets for turning vehicles, widen the sidewalk at the corners, install stormwater planters that will add green landscaping pockets and provide for stormwater management, and upgrade the street lighting along the corridor to LED, which will provide a brighter, whiter light while reducing energy consumption. Link to project plan.
Is it Safe?
Edit
In the 1980s Bernal Heights had a reputation as a dangerous place to venture, notorious as a place to dodge crackheads or at least get your car radio stolen. Cortland started to be cleaned up in the early '90s, when the Good Life Grocery moved in, followed by restaurants like the Liberty Café, as well as other small businesses.
Population
Edit
15,513
Famous People
Edit
Frank Castaldini, Real Estate Agent
Jackie Jones
and her tap dancing cat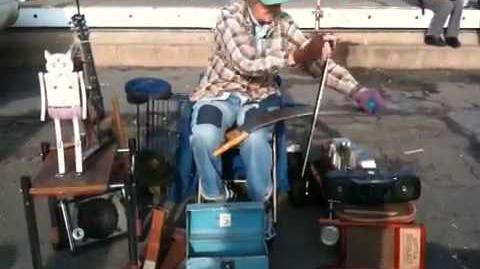 Stephen Stymiest, Precita Park
Other Resources
Edit