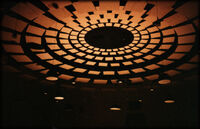 The Audium is a music venue located in San Francisco. It is located at 1616 Bush Street. Audium is the only theatre of its kind in the world, pioneering the exploration of space in music. The theatre's 169 speakers bathe listeners in sounds that move past, over, and under them. "Sound sculptures" are performed in darkness in the 49-seat theatre.
External links
Edit
\
Ad blocker interference detected!
Wikia is a free-to-use site that makes money from advertising. We have a modified experience for viewers using ad blockers

Wikia is not accessible if you've made further modifications. Remove the custom ad blocker rule(s) and the page will load as expected.