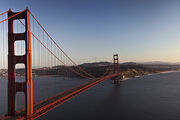 One can't say he has ran in San Francisco if one has not ran across one of the world's most impressive bridges,
the Golden Gate Bridge
.
The main walkway is on the eastern side of the bridge. It is open for the daylight hours and offers a breathtaking panoramic view of San Francisco Bay, the city skyline and Alcatraz island.
Remember, that the Golden Gate Bridge is one of the most internationally recognized symbols of San Francisco, California and the United States. As such, it might get somewhat crowdy from time to time, so run with caution and watch cyclists and other pedestrians.
Crossing the bridge is approximately a 1.5 mile run (3 mile run when crossed in both directions). It is a short yet challenging run. The walkway is not flat and strong winds are frequent in this area.
See Also
Edit
Ad blocker interference detected!
Wikia is a free-to-use site that makes money from advertising. We have a modified experience for viewers using ad blockers

Wikia is not accessible if you've made further modifications. Remove the custom ad blocker rule(s) and the page will load as expected.