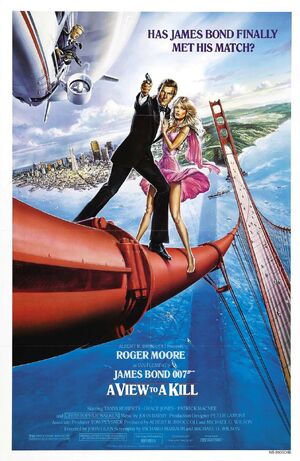 A View to a Kill is the fourteenth James Bond film, released in 1985. The final act and climax of the film are set in San Francisco.
A View to a Kill is the last film with Roger Moore as Bond. His reprisal brought some chaff from critics and fans, as he was 57 at the time and thought to be too old to portray Bond. The movie was directed by John Glen.
The film was based on Ian Fleming's short story "From a View to a Kill" first published in the 1960 book For Your Eyes Only. The story is not set in San Francisco, but screenwriters Michael G. Wilson and Richard Maibaum chose SF due to the recent boom in Silicon Valley in the 1980's.
A silicon chip is captured from the Soviets and found to be identical to a prototype British design capable of withstanding the intense electromagnetic radiation of a nuclear blast. The British suspect industrialist Max Zorin of leaking details of the design to the Russians. When James Bond is sent to investigate he finds that Zorin is stockpiling silicon chips and is drilling near the San Andreas fault with the intent to flood the area, causing his business to be the sole producer of silicon chips for the world.
[1]
Bond manages to foil Max's plot and Silicon Valley is not destroyed. Bond and Zorin then fight aboard Zorin's airship, causing it to tangle with the Golden Gate Bridge. Zorin and Bond then fight upon the bridge resulting with Zorin falling into the San Francisco Bay.
Locations featured
Edit
2201 Broadway, Oakland, California, USA
Market Street
McAllister Street
Van Ness Ave.
Lefty O'Doud Bridge
External links
Edit
Ad blocker interference detected!
Wikia is a free-to-use site that makes money from advertising. We have a modified experience for viewers using ad blockers

Wikia is not accessible if you've made further modifications. Remove the custom ad blocker rule(s) and the page will load as expected.